Charlotte Swing – The Gift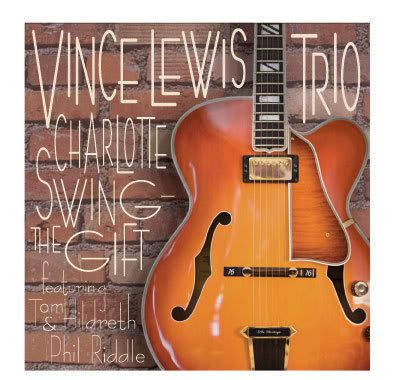 Points: 8/10
Vince Lewis, long time jazz guitarist and well known studio musician, has just released a new album, entitled "Charlotte Swing – The Gift". This is trad. jazz that brings you back to the fifties and early sixties. Together with drummer Phil Riddle and bassist Tom Hildreth, Vince has created a nice collection of various old jazz songs, and has accomplished what probably was his goal: to let the listener lean back into that old rocking chair, close his or hers eyes and travel to a place far beyond the stress and intrigues of modern society.
The tight and steady drumming of Phil Riddle makes the perfect "landscape" which Lewis gladly explores, and the lovely, sustaining bass tones created by Tom Hildreth sets the mood. In a funny way these old songs sound fresh and new, though it should be noted that Lewis is far from a newbie on the jazz scene. The first note in "Will You Still Be Mine" shows what is to come, and "Perdido" is the perfect ending for the record. "The Gift" and "Just A Closer Walk" are in my opinion the most interesting songs. "The Gift" with its warm, hot and if I may say so, sexy feel is by far the song that sticks out, in a good way. The latter ("Just A Closer Walk", that is) starts very gently and melancholic, only to burst out in a beautiful ballad which make you want to pick up an instrument yourself and play along.
All in all this is a very good trad. jazz CD. Vince Lewis uses his great technique and ability to play almost anything perfect to create a calm and cool feel over every song. You can clearly hear that this is a man who lives on the stage! The only thing that might disappoint someone (specially the younger listeners) is the fact that it's all so perfect. You almost want him to make a mistake. I think it would be very interesting to see (or hear) him do something a bit more experimental. Nevertheless, this is a traditional jazz record, and people who are fond of such music will love it! All in all this is a very good record, and Vince Lewis has set his mark in the history of jazz guitar greats.